know mobincube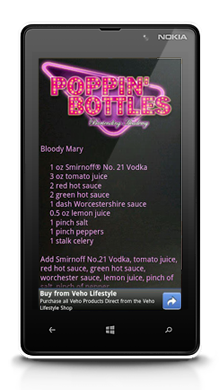 Sign Up
Open an account and start now building your Apps with Mobincube. It's free!
Click on "Sign up", on the up right side of the screen. Insert your username, password and e-mail and click "Create account". You'll receive an e-mail to confirm the account in a few minutes.
Mobincube is a Web tool. So there's no need to download any software. You can access your Mobincube account whenever you want and from any computer with an internet connection to build, edit and distribute your Apps.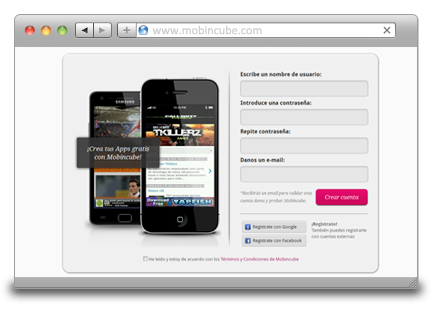 Build and manage your Apps
Once you are in with your username registered, you can build new Apps or manage the ones built previously.
To build a new App you only have to insert its name, set a category from the list and the language you want it to have. It's ready to be edited!
From the user panel you also have access to all your built apps or the ones being built with Mobincube. You can get into any of them to edit and update them, check the downloads statistics by platform, execute its version for iPhone on a web simulator, use the CMS to update its content, get incomes for including Ad or hire any of the Premium services available.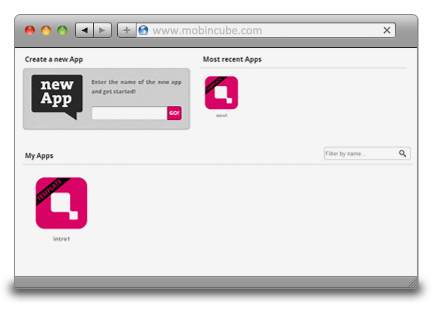 Edit your Apps
Mobincube gives a great flexibility to build your App in a very easy way with its interface.
Start by selecting the type of screen from a wide list of options (detail, map, calendar, RSS, agenda, splash or data base) according to the kind of information to insert and the features to set. You will always have a toolbar on the right side, as contextual help on the left. The "Screen tree" will help you to easily set the structure of the different screens of the App.
The great usability of the Mobincube interface allows you to build your App really easily and without programming. Just by coping and pasting, dragging and leaving elements in an intuitive way.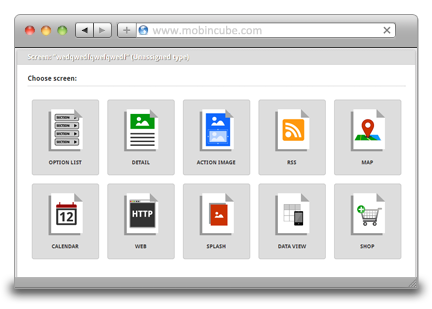 Define your own style
The biggest advantage of Mobincube is that the design of your App is totally free, making your App unique, with the design you wish.
On Mobincube the whole screens design of your App is customizable to your taste and done by yourself.
You can set elements as "tables" to easily get great designs, as to build your own navigation bars with your own style.
With the online simulator, on HTML5, you can check how every screen will be on each Smartphone, while you are editing in Mobincube.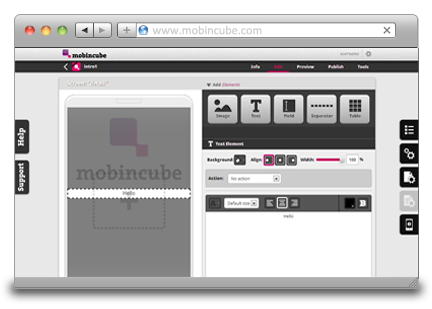 Publish and share your App with everybody
With Mobincube you can publish your App on all the markets of every platform, as App Store, Google Play and Windows Phone Market... or on the own App Store of Mobincube.
Publish it on the markets with your account just by downloading the file from Mobincube if you want to be shown as the developer... or ask us to publish it with your name.
Check also the App Store of Mobincube, which by sending a customizable download link with your domain, allows recognizing the user system and giving it the proper file... or send it directly to its App Store.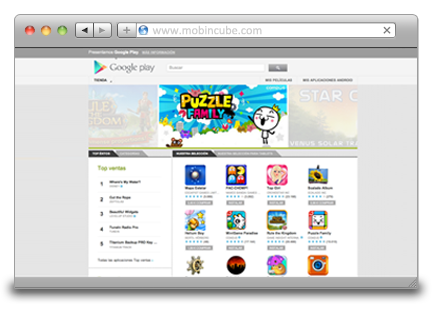 Advanced Features
With Mobincube you can build Apps with many advanced features and very easily. You can add different features, such as integrated maps with Google Maps, databases updated online, RSS readers, customizable calendars, forms...
Our team works every day to add new features so you can build the best Apps of the market.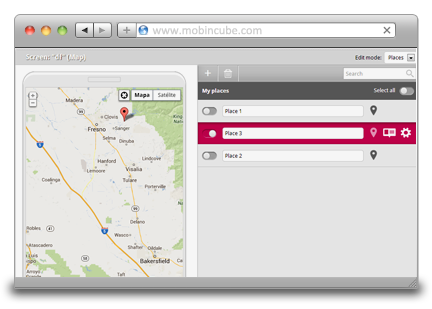 Maximum compatibility
With Mobincube you can build Apps for the main mobile platforms: iPhone, iPad, Android, Windows Phone, Blackberry, among others.
No one is going to be without downloading your Apps!